All the way from Austin, Texas Micky and the Motorcars will be tearing up the patio stage for a special Sunday night concert on Sept 1st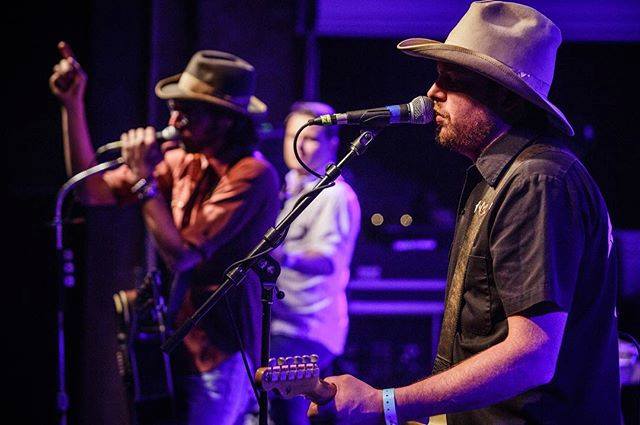 The band consists of Micky Braun (acoustic guitar, lead vocals), Gary Braun (lead & harmony vocals, guitars, mandolin, harmonica), Pablo Trujillo (lead guitar, pedal steel), Joe Fladger (bass), and Bobby Paugh (drums & percussion).
Micky and Gary Braun are the younger brothers of Willy and Cody Braun of the Austin-based band, Reckless Kelly. Micky and the Motorcars perform yearly at the Braun brothers Reunion, held in Challis, Idaho.
Thirteen years can put a hell of a lot of wear and tear on even the hardiest of rock 'n' roll bands. But don't be fooled by all those hundreds of thousands of miles on Micky & the Motorcars' odometer: pop the hood of Hearts From Above, the long-running Austin band's seventh album, and you'll find a brand-new engine, fine-tuned and good to run for at least as many more miles still ahead. And behind the wheel? Two brothers and founding members Micky Braun (lead vocals and guitar) and Gary Braun (guitar, mandolin, harmonica, and vocals) invigorated and supercharged by a transfusion of new blood from fresh recruits Josh Owen (lead guitar/pedal steel), Joe Fladger (bass), and Bobby Paugh (drums). Micky and Gary, who by their own admission, haven't been this fired up about playing together since they first rode south from the Whitecloud Mountains of Idaho to stake their claim to the Texas and wider Americana music scenes.
Special Guest Opener: Tylor & the Train Robbers
Tylor & the Train Robbers, a Boise Idaho based band, possess a depth of thought steeped in Americana Folk without losing it's Country root grit. Hailing from small town Helix Oregon, lyrically focused frontman and songwriter Tylor Ketchum conjures up his long dead outlaw ancestor, Black Jack Ketchum as the inspiration for their new album, Best of the Worst Kind in a musical necromancy that is delivered in full with the title track, The Ballad of Black Jack Ketchum. Set to be released on the anniversary of his hanging, April 26th, the music video for the ballad was was filmed at Black Jack's grave during the bands most recent tour through the South West United States.
From good cowboys gone bad to the woesome troubles of the modern American wanderer, Tylor & The Train Robber's songs explore a span of generations linked by a common spirit.