$10 online or $15 at the door. These guys packed the house last time through and that was outdoors, this will be indoors with a smaller number of tickets available, get your tickets now for this great show!
STRANGER TO ME IS #1 MOST ADDED AT COLLEGE RADIO AND DEBUTS AT #22 ON AMERICANA RADIO CHARTS
Thanks to all of the radio stations who are spinning tracks from STRANGER TO ME, the album debuted at #22 on the Americana Album Charts this week, and was the #1 most added record in the NACC college and non-commercial radio charts in the folk genre! Let's keep it moving up – call in requests to your local radio station. If they don't have the album, let us know and we will send one out to them.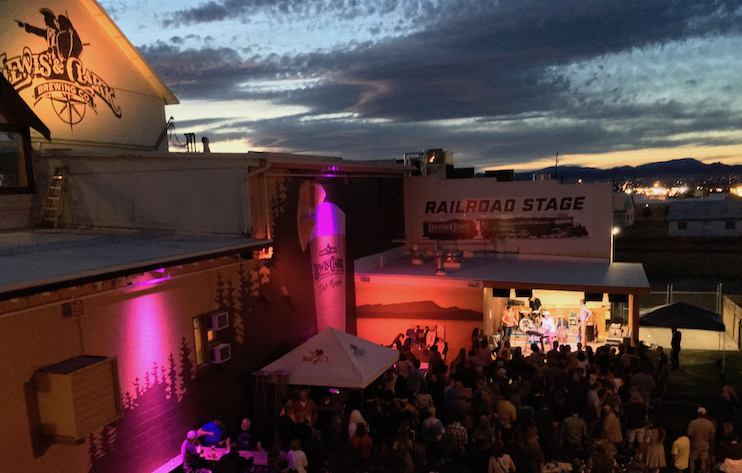 As The Black Lillies reacquainted fans with the band's new look and sound through a series of videos over the course of 2017, a few questions began to percolate in their minds:
Is a new album in the works? Was this an indication of the band's new sound? Does Sam Quinn — the band's bass player, harmony vocalist (with an occasional lead) and a partner in the songwriting duties of frontman Cruz Contreras — own a shirt?
The short answers: Yes; kind of but not really; and … yeah, but he prefers the weather fine enough to go without.
"The Sprinter Sessions" were a series of live videos recorded at stops around the country, from the frozen cityscape of Philadelphia in late winter to the side of a Midwestern backroad with fallow fields stretching to the horizon. In various combinations, the Lillies — Contreras, Quinn, guitarist/songwriter Dustin Schaefer and drummer/songwriter Bowman Townsend — committed themselves to recording a brand new song every week. They weren't lavishly orchestrated or fully fleshed out; sometimes lyrics had been written mere minutes prior to the broadcast. The songs were performed on acoustic instruments still grimy from shows the night before, and the guys didn't bother to pick out their finest threads. Quinn, more often than not, played shirtless. Hence the aforementioned question.
"You're putting songs out there that weren't finished, weren't perfectly arranged, and we might barely have been able to perform them," Contreras says. "We might be tired or hungover, playing them at a truck stop or wherever. It wasn't glamorous — but it held us accountable to that a rate of productivity that was really important, and it kept our fans up to speed with the evolution of the group — even if a lot of them did offer to send us clothes or food!"
More than anything else, "The Sprinter Sessions" set the stage for "Stranger to Me," the new album by the Lillies that drops Sept. 28 on Attack Monkey/Thirty Tigers. It's been a slow roll-out, but the new record is the sound of a band that's been renewed and reinvigorated, anchored to the traditions that made it so beloved by so many but chiseled down to the bare essentials:
Four men. Four friends. Four artists, each of whom could rightly put out a solo record tomorrow, tied together by a bond to something that's greater than the sum of its parts.
"Going from a six-piece to a four-piece, it's given these guys space to shine and grow and evolve, and the chemistry has gotten better," says Contreras, who in another life was the mandolin-shredding bandleader of Robinella and the CCstringband, once signed to both the Columbia and Dualtone labels. "These guys have become not just sidemen or guns for hire; they're invested. Their opinions count, and their creativity is as much a part of this record as mine. There are songs that I wrote; that Sam (a veteran of the Americana group The Everybodyfields) wrote; that we wrote in any combination and all of us together.
"It's pretty simple, when you get down to that romantic notion of having a band. We rehearse together, we travel together, we hang out together because we're dedicated, and I think the music is really showing that now. For me, it's been years of learning to set your ego aside, but experience teaches you that you have to."
Making room for other voices in the band was vital in rekindling Quinn's creative fires. The winner of the 2006 Merlefest Chris Austin Songwriting Contest and a respected solo artist after The Everybodyfields folded, the well had dried up for him back home in Knoxville until a spot opened in The Black Lillies. Working with Contreras, Townsend and then Schaefer, Quinn says, was akin to tossing gasoline on the smoldering embers of his songwriting chops.
"It's like, when the itch hits, that's the time to scratch it," he said. "Office Depot is now my favorite place. I'm always buying paper and pens and destroying them, because I write all the time. Right now, I'm looking at four legal pads, a notebook, a journal and a bunch of stolen hotel paper. It's a bit of a neurosis, I'm afraid, but I want to be a better writer, and this band is an outlet to become that."
The Black Lillies were conceived during a particularly emotional period in Contreras' life. A divorce, a disassembling of his old band and a 9-to-5 job driving a truck left him with days of turbulent thoughts and nights alternating between pen-and-paper and a guitar to put them into some semblance of order. "Whiskey Angel," released in 2009, was a springboard to a whirlwind career revival, and within two years, the band had notched several national tours, landed on the hot list of countless publications and appeared everywhere from the Grand Ole Opry stage to the Bonnaroo Music and Arts Festival. Other records — "100 Miles of Wreckage," "Runaway Freeway Blues," "Hard to Please" — helped define a sound that was rooted in distinct male-female harmonies, intricate instrumentalism and emotionally charged lyrics that look toward the hope of a new day dawning, regardless of the darkness of broken hearts and bereft spirits.
Around the making of "Hard to Please," however, the band faced its biggest challenge to date — losing key members, integrating new ones and facing a future that meant changing musical directions. Contreras, however, rose to the challenge, drawing inspiration from some of the titans of the genre in which the Lillies often find themselves categorized: The Eagles and Wilco, just to name a few.
"We think about those favorite records of ours, those masterpiece records, and they're no filler, all killer," he says. "We grew up listening to records like that, so we thought, 'Let's go for it. Let's stack it.' It should be nothing but keepers, and there really shouldn't be five seconds of, 'Oh, they didn't know what to do here.' Everything should be purposeful."
When the dust settled, he found himself with the right set of players: Quinn, who won songwriting awards and was once a labelmate of the Avett Brothers during his time in The Everybodyfields; Schaefer, a guitar wizard and a veteran of the Texas alt-country band Mickey and The Motorcars; and Townsend, the youngest member of the band who was brought in on drums in 2015 and has quickly become the group's veteran anchor.
"Bowman brought that positive attitude, that work ethic, and for me, he's been the guy," Contreras says. "When Sam joined the band, we were getting a rock star. This guy's been around the block, done it all and succeeded. He's written great songs, played big stages and had the band that will go down in music history as one of the seminal ones in the genre. With Dustin, he had moved to Nashville to pursue a solo career, but when he joined up, we all got along and played well together.
"With all of these guys, we kind of hit the ground running. I think there's mutual respect there on a creative level — we're very different personalities, we make very different types of music and have very different writing styles, but we recognize that when we work together, we come up with something new and different that none of us could do on our own."
Although "Stranger to Me" is a distinct milestone in a career arc that continues to climb, lead-off track "Ten Years" is the bridge to the band's previous efforts. A gentle country rocker gives Contreras room to croon, and his vocals — reminiscent of a young Randy Travis or Dan Tyminski — demonstrate just how much he's evolved as a singer since he stepped up to the mic for the first time on "Whiskey Angel." By track two — "Midnight Stranger" — the guys lasso a classic rock groove in the vein of Bad Company, and listeners will realize that any governor on the throttle of this remodeled machine has been yanked and discarded. By track three — "Weighting," one of Quinn's three leads — the Lillies are waist-deep in a maelstrom of new tricks that both dazzle and satisfy.
"This is Sam out of the gate — he wrote all of the lyrics, all of the chords, the entire arrangement," Contreras says. "It's a rocker from the beginning, and thanks to Jamie (Candiloro, a veteran producer of Ryan Adams and R.E.M. who shepherded the making of "Stranger to Me" at Echo Mountain Studios in Asheville, N.C.), it became something more. He's an engineer, so he can come in and engineer this thing in a way so that it captures the natural intensity of a live Black Lillies performance with the quality of a studio production.
"Jamie forced us to all sing all the vocals at the same time — 'When you sing together with people, you sing differently than you do alone,' he would tell us — and before, it would be me singing solo and then the guys adding their voices. For this one, I was singing with Sam and Dustin at the same time, and it became more cohesive, more robust. Bigger."
For Quinn, moving from the contemplative folk of The Everybodyfields into the bigger, bolder arena of the Lillies has allowed him to tap into a more vigorous style for which his skills are equally adept.
"When I was in my late teens and 20s and early 30s, I was sponge-like absorbed into sad or depressing music, but this is the other side of the spectrum," he said. "This was making a rock album — having to get yer ya-yas out, using lots of piss, lots of vinegar … just real groovy stuff. And then when Dustin joined up, he was originally hired as a shred guitarist, but what we didn't know that the secret weapon was, are his wicked high harmony vocals. That was just pivotal, and it kind of changed the name of the game."
The band wears its influences on its sleeve for every song of the new record. Laurel Canyon breezes blow up dust from the SoCal desert on the Eagles-tinged "Out of the Blue," Townsend pounds out a methodical rhythm that sets the stage for glorious harmonies on "Don't Be Afraid," and "No Other Way" sounds like a distant cousin of Wilco's "Outtasite (Outta Mind)" with its freight-train hooks, courtesy of Schaefer's six-string alchemy that manages to lift every song from great to sublime. "Snakes and Telephones," another lead by Quinn, swirls with psychedelic overtones and torch ballad longing.
"We put 13 songs on it, but we had trouble pairing it down to 13 — and that's a good problem to have, because we're already talking about doing a follow-up, acoustic EP of the ones that got cut," Contreras says. "Will we do it? Who knows. Will Sam be wearing a shirt when we do it? Who knows!
"We just don't want to be a throwback band. We want what we do to sound new and fresh and modern, and I think even the album cover of 'Stranger to Me' represents that. It's sharp, and it's smart, and the mountains are a nod to both recording in Asheville and the house we did a lot of the pre-production in, which was this 1960s, modern-nouveaux place that looks like it belongs in the Hollywood Hills. And that ties back into the fact that while there's a mountain quality to this record, it's a departure as well.
"We're venturing out from a pure East Tennessee sound, and hopefully that comes through," he adds. "Our voices, especially mine and Sam's, are unique to that region, but production wise, we wanted this to really reflect the direction in which we're going."